eDreams ODIGEO recently published their report into travel habits across the generations based on an international survey they conducted through OnePoll.
The survey of 13,000 people from eight countries (The UK, USA, France, Germany, Spain, Sweden, Portugal and Italy) looks at the travel habits and trends and how the travel of today's generation compares to those 50 years ago.
The survey found that the average child now goes on their first holiday at the age of 5 with 25% being taken on their first international holiday at the age of 2. It was also revealed that millennials embark on their first holiday by the age of nine, having experienced an average of four international holidays by the age of 12. It was also revealed that long haul travel has seen 55% rise among European travellers in the last 10 years.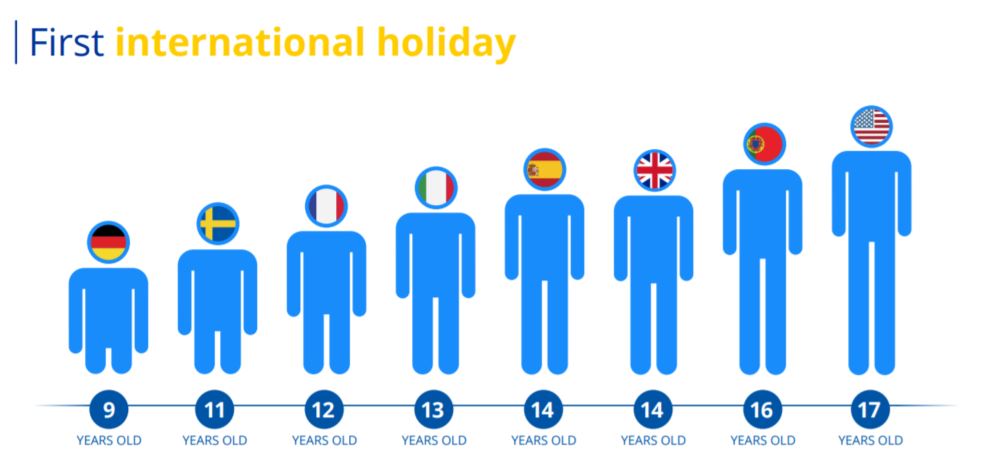 The average global age that an adult experiences their first international holiday was revealed as 13. However, this was often found to be much younger in European countries, for example, Germany was age 9, France age 11 and Sweden 12, but higher in America where citizens only ventured overseas for the first time aged 7 on average.
Overall 51% of people revealed they travel more than they did 10 years ago. 48% of those believe travel is more accessible now than it used to be. Disposable income was also named by 43% as an explanation for the increase.
As well as being used by eDreams ODIGEO as a downloadable PDF, the research was also published in the French publication T.O.M.